Mundial 5100 Series Cutlery (Red Handles)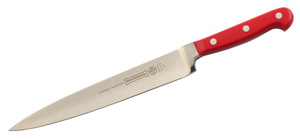 Mundial 5100 Series Cutlery have been fully forged from a single piece of the ultimate high carbon stainless steel material, which has been hand polished to a mirror like finish. Additionally, the polished blades prevent food from sticking to the blade, which keeps these knives hygienic during food preparation. A full tang stretches from blade tip to steel-capped handle end, giving Mundial 5100 Series knives unparalleled stability and balance for a superior cutting experience. The edges of the steel blades retain their razor-sharpness even with frequent usage, and can be sharpened without difficulty.

The ergonomically designed polyacetal handles of Mundial 5100 Series knives fit comfortably in the hand and are triple riveted to the blades for superior strength and durability. Overall, Mundial 5100 Series Cutlery are nicely balanced to give an exceptional cutting experience without stressing or fatiguing wrists and hands. Mundial 5100 Series knives are available in a wide range of aesthetically pleasing colours, including red, black and white. Mundial knives are made in Brazil and are backed by a lifetime warranty. Mundial 5100 Series knives should only be washed and dried by hand.