Mundial 5600 Series - Seafood Knives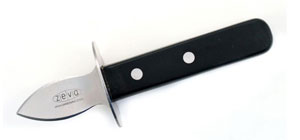 Mundial 5600 Series cutlery are stamped from a high carbon stainless steel material for the ultimate edge retention that only requires minimal sharpening maintenance. Mundial 5600 Series knives are hand polished and thoroughly tested to ensure that amateur cooks and professional chefs alike experience the ultimate cutting experience. Mundial 5600 Series knives are unique from other cutlery lines in that they're fully traceable. Each knife features a special tracking number stamped onto the steel blade, which allows the knife to be identified by the manufacturer throughout its life. This ensures each Mundial 5600 Series knife receives notification of scheduled sterilization and resharpening from the manufacturer.

Mundial 5600 Series cutlery feature ergonomically designed polypropylene handles that offers a non-slip grip that fits comfortably in any hand size. All Mundial 5600 Series handles have been treated with Sanitized® Antimicrobial Protection, which guards the knives against bacteria, germs and fungi growth that can occur on cutlery due to frequent food preparation. Mundial 5600 Series knives should still be sanitized regularly and washed by hand. These Mundial knives are NSF certified and are backed by the Mundial limited lifetime warranty against defects.